Skip to main content
WE'RE WORKING WITH YOU TO MAKE OUR COMMUNITIES STRONGER
For more than a hundred years, we've been lighting the way for families to grow and businesses to prosper in communities across Appalachia, the Midwest and Southwest. Today, we strengthen that legacy of service by tackling our community's most basic needs: food and housing. And education. Giving back in these ways and promoting environmental sustainability are an important part of who we are. In fact, we invest more than $16 million a year to care for others in our community and to promote and protect our environment. Working together with you, we are making our families healthier, our economies stronger and the future brighter for our communities.
PINK POWER
This October, AEP employees are using the power of pink to show support for those affected by breast cancer.
When AEP Ohio, AEP Texas, Kentucky Power and Southwestern Electric Power Company field employees head out into the community this October, they'll be sporting a new piece of safety equipment. Employees have traded their traditional white hard hats for pink ones in recognition of Breast Cancer Awareness Month.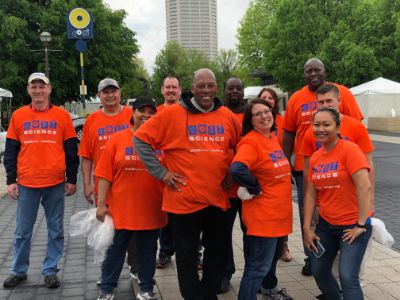 The dedication of AEP volunteers to central Ohio's inaugural "community science festival" earned special recognition recently from COSI Columbus, central Ohio's science center.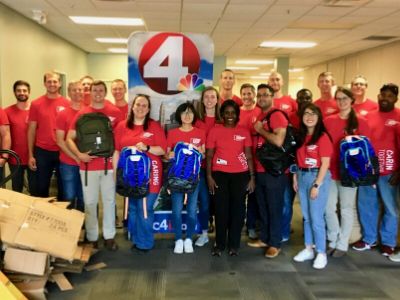 AEP OnSite Partners recently volunteered at the NBC4 "Stuff the Backpack" initiative to help stuff backpacks with school supplies.  The program works to ensure local K-12 students in central Ohio have the necessary school supplies to start the upcoming school year.  The AEP Foundation is a sponsor of this program, which benefits 25 school districts across Franklin and Licking Counties in Ohio.
Incredible volunteer employees and retirees were on hand to help Habitat for Humanity - MidOhio raise the walls in a Linden home for a family of twelve. We're ever grateful to have these kind and generous folks in the AEP family and for our partnership with Habitat for Humanity, whose dedication to strengthening families and communities always amazes us.
Connect with Us
We want to work with you to make our communities better. Here's how to connect with us.
Learn more
Sustaining Communities
Clean energy. Diversity. Economic Development. Find out what we're doing to create a brighter future.
Learn more